Are you struggling with finding purpose and meaning in your life? You are not alone! Many Saints have encountered difficulties in discerning God's call for their lives. Reading about Saints and 'Saints-in-the-making' (those in the process of being Canonized) can give us hope and insight.
Now there are varieties of gifts, but the same Spirit; and there are varieties of service, but the same Lord; and there are varieties of working, but it is the same God who inspires them all in every one. To each is given the manifestation of the Spirit for the common good. (1 Corinthians 12:4-7)
Some saints hoped for religious lives in foreign lands but were called instead to professional careers close to home. On the flip side, some missed their original calling due to health issues yet were given the strength to become inspiring missionaries in foreign lands! Others were ridiculed, mocked, and prevented from pursuing their calling by their family or circumstances but prevailed and became canonized saints.
Life is a journey through a series of seasons. What steps can you take to hear God's call more clearly in this season of your life?
Seek guidance from sound spiritual leaders.
Deepen the knowledge of your faith and find a community of support, such as the Tepeyac Leadership Initiative: https://tliprogram.org/
Pray 'The Surrender Novena' by Father Dolindo Ruotolo, particularly Day 5, which begins: "And when I must lead you on a path different from the one you see, I will prepare you..."
Read about and seek intercessory prayers from Saints and 'Saints-in-the-making,' such as those which follow:
St. Gianna Beretta Molla is the Patron Saint of doctors, physicians, pediatricians, mothers, wives and the unborn. She knew she wanted to be a doctor but also thought it was her calling to be a lay missionary to Brazil along with her brother. However, after delays in paperwork, challenges with health, and a great deal of prayer, she discerned her calling was to married life in Italy. Gianna experienced complications with her 4th pregnancy but elected to save the child even if it meant risking her own life; Gianna died in 1962, shortly after her 4th child was born. She never went to Brazil as a missionary, but there are two miracles in Brazil after her death attributed to her intercessory prayers. The legacy of her virtuous life in Italy as a doctor, wife and mother who made the heroic choice for life, plus two miracles in Brazil, contributed to her cause for canonization in 2004 by St. Pope John Paul II. Her feast day is April 28th. She was the first saint to have her husband attend her canonization! She said:
What is a vocation? It is a gift from God and therefore comes from God. If then it is a gift from God, it is up to us to do all in our power to know God's will. We must go along that way, if God wills it, not forcing the door; when God wills it, how God wills it.
Venerable Edel Quinn was a woman of deep faith and a joyful heart. She loved music, played tennis, swam and danced; she actively practiced her faith and developed strong organizational skills as an office clerk. Edel felt a call to become a Poor Clare but became ill with tuberculosis and joined the Legion of Mary instead. Through her great love of Jesus and confidence in Mary, she worked through illness and harsh conditions to establish hundreds of Legion of Mary branches and councils as an Envoy to East African countries such as Kenya, Tanzania, Zambia and Mauritius. Only 36 years old, Edel died in Nairobi, Kenya in 1944. The beautification process began in 1957 and St. Pope John Paul II declared her venerable in 1994. These two quotes from Edel show the richness of her faith:
What boundless trust we should have in God's Love. We can never love too much; let us give utterly, and not count the cost. He will respond to our faith in Him. We must do what we can for Him and rely on Him to give us each day the strength for the work He expects from us.
One's duty is not only to work, but to pray and sanctify oneself for those worked for.
Servant of God Alfie Lambe was also a member of the Legion of Mary and was an Envoy to South America. He was very disappointed when his ill health prevented him from joining the Irish Congregation of Christian Brothers. However, he found a new calling through the Legion of Mary, serving homeless men at the Morning Star Hostel in Dublin. Despite his health challenges, he became an Envoy of the Legion of Mary and visited schools, leper colonies and prisons in Columbia, Ecuador, Chile, Bolivia, Peru, Uruguay, Brazil and Argentina. He was good with languages and learned Portuguese, Spanish, Quechua (a native language), and even Russian in hopes of traveling there. The 'el corderito,' or 'little lamb' as he was known, didn't make it to Russia, dying at the young age of 26 in 1959 after establishing numerous branches of the Legion in multiple countries. Although he didn't join the order, he is buried in the Christian Brothers Vault, Recoleta Cemetery, Buenos Aires, Argentina. His cause for beatification began in 1978. If you are in a situation where you don't know what to say or how to say it, ask 'el corderito' for help!
St. Francis of Assisi, the founder of the Franciscans and the Patron Saint for ecology, merchants, and animals, is perhaps one of the best known for having difficulty discerning God's call. It wasn't until after working to restore the physical church of San Damiano that he understood the message he received from God to "go and repair My church which, as you can see, is falling into ruins," was meant for the body of the church which in the 12th century was battling scandal, avarice, and heresies. Francis's approach was unconventional and not accepted by many, causing his father to lock him up for a time. However, he maintained his respect and union with the Church, even while calling for reform. His simplicity of life, listening to Christ and adherence to the Gospel brought him many followers. His canonization in 1228 was two years after he died, and his feast day is October 4th. When discerning ones meaning and purpose in life, this quote from St. Francis is good to reflect upon:
Keep a clear eye toward life's end. Do not forget your purpose and destiny as God's creature. What you are in his sight is what you are and nothing more. Remember that when you leave this earth, you can take with you nothing that you have received – only what you have given: a full heart, enriched by honest service, love, sacrifice and courage.
Stay tuned for future articles as we explore more Patron Saints, or 'Saints-in-the-making' (in the process of canonization), as candidates for intercessory prayers for lay Catholics.
And join us in prayer for the success of The Hour of the Laity: A Lay Catholic Conference (THL2023), November 2-5, Christ Cathedral, Orange County, CA. THL2023 is a national gathering for all lay Catholics who seek to grow as leaders to influence civil society with positive, healthy values grounded in truth and faith. It provides Catholic leadership formation to strengthen and enable the laity to become ambassadors of Christ in our day-to-day lives and the secular world! All experts, panelists, and keynotes are lay people who positively impact society and are sound examples of authentic lay Catholic leadership. We pray for continued growth in holiness and success in business ventures for all who attend.
St. Gianna Beretta Molla, Venerable Edel Quinn, Servant of God Alfie Lambe, and St. Francis of Assisi – pray for us!
The Patron Saints Series is sponsored by our friends at Catholic Prayer Cards.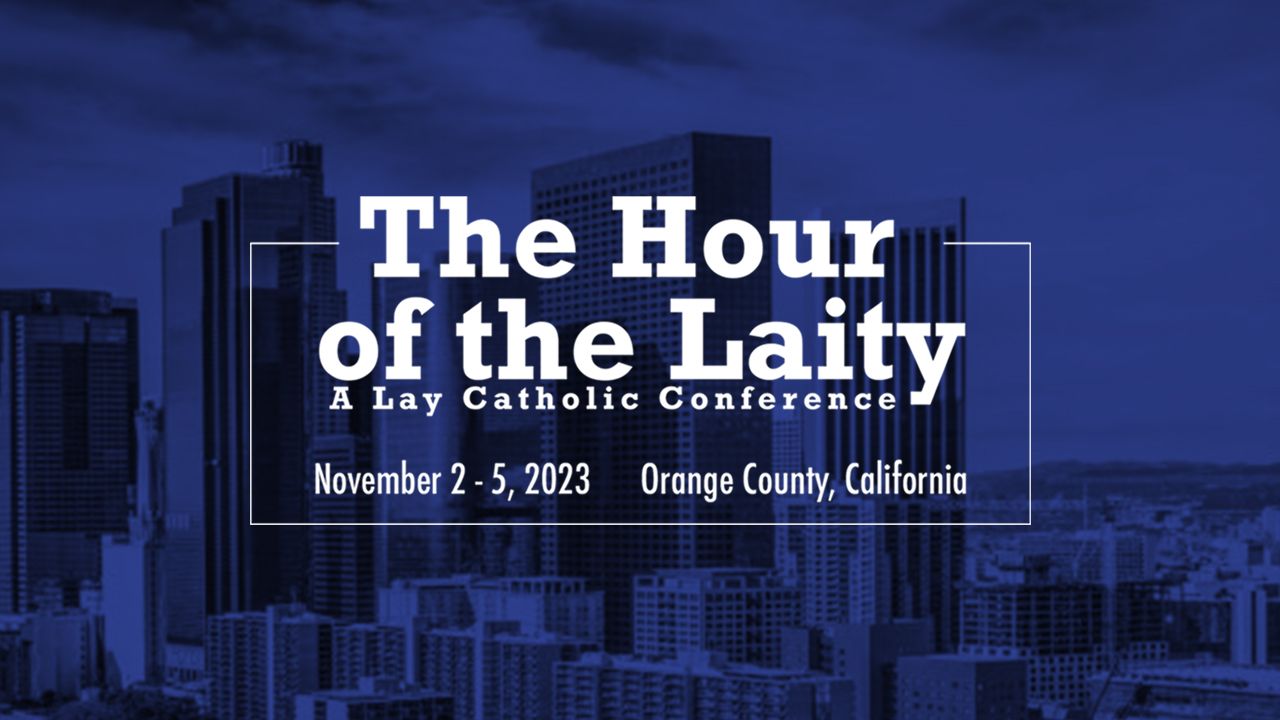 Visit Our Sponsors!
Catholic Association of Latino Leaders
Catholic Charities of Orange County
Catholic Cemeteries & Funeral Homes
Catholic Cemeteries & Mortuaries
Hoffman & Associates Building Corporation
Notre Dame Federal Credit Union
The Society of St. Vincent de Paul