Leadership is the lifting of a man's vision to higher sights, the raising of a man's performance to a higher standard, the building of a man's personality beyond its normal limitations. (Peter Drucker)
And if you add…"Whoever would be great among you must be your servant" (Matthew 20:26)…you get magnanimity and humility. You get virtuous leadership.
In the beginning of the Tepeyac Leadership Initiative (TLI) program, a group of leaders came together. In this dynamic group of individuals, we all had something in mind of what we wanted to gain from this program but along the way we learned how to be a gift of ourselves to others. But it didn't stop there. I believe the best part of this program was learning how to give ourselves more completely to God and letting Him make a gift of ourselves to others, to the best of our ability, by the way of our mission. And that is Virtuous Leadership. To be both magnanimous and humble to serve God here on this earth to end up a Saint in heaven, which is the ultimate goal.
The beginning of my journey in service started when I was in high school. I got involved in my youth group and basically lived at Church. I loved being there, the community it brought and helping out. After I graduated high school I got the opportunity to go on a retreat for two weeks in Minnesota. What I learned from that retreat was that no matter what I had done, through the sacrament of Confession, God had forgiven me. I was free. It was then a question of what am I going to do now? What choices was I going to make from that point on? So when I got home, I slowly but surely started making the right changes and choices in my life.
Fast forward, I got the opportunity to serve as a missionary with NET Ministries. I served around the country for two years giving retreats to junior high and high school youth. My faith life was really solidified during that time.
I then went on to Franciscan University where I studied International Business and Theology. At university, I learned the reasons for my faith and why we do the things that we do as Catholics. That's where I experienced how faith and reason are needed to enhance our understanding of God. I also served the Latino population on campus, as the President of the club called Latinos for Christ. We held events, brought in speakers, and held the first ever Our Lady of Guadalupe celebration. We really shared our culture, faith and devotions with the other students.
Moving on to my professional life, I moved to [Washington] D.C. where I was an executive assistant but got involved with a group that was connected to Georgetown University called The Catholic Latino Leadership Initiative. It was where young Catholic professional Latinos came together to share our faith, culture, network, and encourage one another to live the faith in our professional lives. This was my first taste of being a part of a community of Catholic professionals. Moving back to L.A. I got involved with the young professionals of CALL, Catholic Association of Latino Leaders. That is how I got introduced to TLI.
At that time, there was a part of me that was searching. I felt a little lost and wanted to have more clarity and direction of where God was leading me to next. God is not outdone in His generosity because this was the perfect opportunity.
From the first class of everyone sharing their timelines, it was clear that this was a group of dedicated, accomplished, and faith-filled individuals who took a courageous step into the breach, to be the leaders that God had created us to be. I am so grateful for each and every one of my classmates who took on this challenge and opportunity, knowing that we are not alone on this journey but have been given a faith-filled community to call upon and live our mission, supported by others who "get it."
Which brings to mind the call of the disciples. I have been reflecting on Matthew 10:3-32. This is when the disciples were chosen—people of all walks of life, vastly different, coming together for one mission. Think of it as "Jesus's cohort." He chose people who were older, some younger. Some were very seasoned in their profession as fishermen, others maybe just learning the trade. One was even a tax collector, a profession that was despised and looked down upon for being known to take advantage of others. Some of them already knew each other and were related to one other. They were very much in different parts of their faith. But God chose His "cohort," His disciples. He handpicked each and every one of them for the mission of bringing Salvation into the world.
Very much like the disciples, we were in training. We came in with our own experiences. We only knew what we knew at the beginning of the journey but as time progressed, we saw and experienced something greater than ourselves and how we all fit into the story, the mission. To be set apart and have our hearts be "re-set" on fire with love for Christ. Just like the disciples, we all have vastly different life experiences but we are all called to one mission.
The same mission that brought all of the disciples together has now brought us all together. Like in a relay race, we are now handed the baton of faith in action. We took the time to learn and grow, just like Jesus took the time with His disciples to teach them. We have been taught by our many wonderful presenters, who were not only experts in their professions but also faithful Catholics. Jesus didn't teach the disciples everything they needed to know but enough to start and take action with. He also promised an Advocate that would be with them always.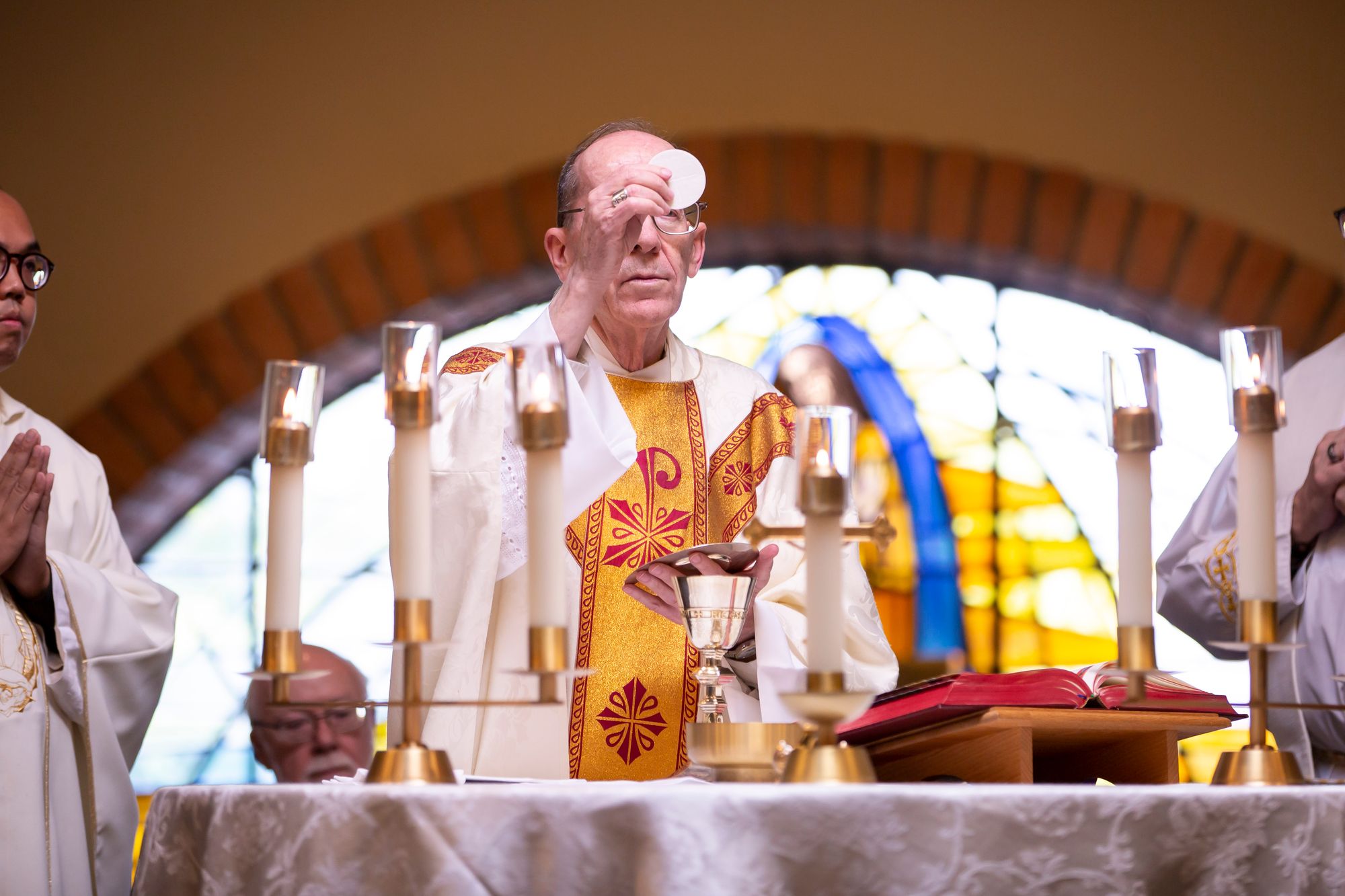 We have that same Advocate—the Holy Spirit—Who will guide our every action when we invite Him in. Even if we do not know it all, we all know enough to be the leaders that Christ has called us to be. We are continuing this relay race that started before us. To run the race that has been given to us and to continue to grow in our relationship with God. Always pressing forward to be faithful in our call, so that when our time on this earth is done, the Lord will, God willing, utter to us those precious words: "Well done, my good and faithful servant." We will then be able to hand the baton on to others who will continue this mission for us.
Right now, there is so much uncertainty, fear, and stress with this COVID world we are living in. Then you add police abuse and racial inequality and the many issues we face today, we are at a time where we are challenged more than ever in our faith, beliefs and living for what is true, good, and beautiful.
I can't help but believe that we were made for such a time as this. This is the time to engage, to be in the trenches and not stand on the sidelines. to have the courage to live countercultural and be people of action and initiation. To rise up and have a say in what is going on in our world. To not stand by and watch because we have been given the tools to step into what is happening and act. It's not a coincidence that we all came together this year, to be leaders and not just any leaders, but virtuous leaders in our culture today, especially in one of the most influential cities in the world. If we do not act, we will be complicit in the issues that are going on. We all have a mission to fulfill and this is just the beginning.
Brothers and sisters, let us not be afraid of the call we have been given but step into it with faith and generosity of spirit. Knowing that God will bring to completion what He created us to do. Let's rise together, as one family in faith, taking up our call to be virtuous leaders, and in the end, make it to become Saints. Now I pose the question: What steps are we going to take from this point forward?
Again, we are made for such a time as this. TLI is truly a gift to all of us. Let's be great. Let's be humble. Be not afraid.
St. Jose Maria Escriva, pray for us.
---
Check Out Our Sponsors:
Catholic Association of Latino Leaders
Catholic Cemeteries & Funeral Homes
Catholic Cemeteries & Mortuaries
Notre Dame Federal Credit Union